The novel cell-culture-derived quadrivalent inactivated influenza vaccine (IIV4c) provided protection against influenza in healthy children and adolescents across seasons regardless of previous influenza vaccine, according to a study recently published in the New England Journal of Medicine. 
"Although influenza vaccines prevent influenza disease in randomized trials,5-7 vaccine effectiveness is frequently suboptimal," Terence Nolan, MB, BS, PhD, and colleagues wrote. "Egg-adaptive mutations in the globular head of the hemagglutinin protein in egg-based vaccine viruses may contribute to observed low vaccine effectiveness."
According to the researchers, cell-culture-derived influenza vaccines may enable a closer antigenic match to circulating strains of influenza virus by avoiding egg-adapted mutations.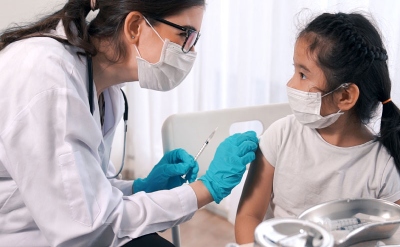 Nolan and colleagues used a Madin–Darby canine kidney cell line in children and adolescents to less than 18 years of age to evaluate the efficacy of IIV4c.
A total of 4,515 participants from eight countries were enrolled in an observer-blinded, randomized clinical trial comparing IIV4c with a non-influenza vaccine over the course of three influenza seasons.  
Participants were randomly assigned to receive IIV4c or the meningococcal ACWY trial vaccine.
Patients aged 2 to less than 9 years without previous influenza vaccination who were assigned to the IIV4c group received a second dose on day 29 and their counterparts who were assigned to the comparator group received placebo. 
The researchers followed patients for a minimum of 180 days for efficacy and safety and used reverse-transcriptase–polymerase-chain-reaction assay and viral culture to confirm the presence of influenza virus in nasopharyngeal swabs from participants with influenza-like illness. 
Nolan and colleagues also used a Cox proportional-hazards model was used to evaluate the primary endpoint which was defined as efficacy of IIV4c as measured by the first occurrence of laboratory-confirmed type A or B influenza.
Laboratory-confirmed influenza occurred in 7.8% (n = 175) of the 2257 participants in the IIV4c group and in 16.2% (n = 364) of the 2252 participants in the comparator group. 
The efficacy of IIV4c was 54.6% (95% CI, 45.7-62.1). Efficacy was 80.7% (95% CI, 69.2-87.9) against influenza A/H1N1, 42.1% (95% CI, 20.3-57.9) against influenza A/H3N2, and 47.6% (95% CI, 31.4-60.0) against influenza B. IIV4c showed consistent vaccine efficacy in subgroups according to age, sex, race, and previous influenza vaccination. 
The two groups shared similar incidences of adverse events, according to the study results. 
According to the study, the unpredictable nature of seasonal influenza epidemics is a logistic challenge to reliably estimate the efficacy of new vaccines.
"IIV4c provided protection against laboratory-confirmed influenza in healthy children and adolescents across three seasons, regardless of previous influenza vaccination," the researchers wrote. "Influenza vaccine manufacturing platforms that do not rely on eggs offer certain advantages, including avoidance of egg-adaptive hemagglutinin mutations and a shorter response time when a new influenza virus emerges."
Disclosure: Nolan reports receiving grants and personal fees from Seqirus, as well as personal fees from AstraZeneca, Merck, Moderna, and Sanofi Pasteur. Please see the full study for a complete list of author disclosures. 
Photo Credit: Getty Images