The rate of influenza vaccination in US adults with CVD remains much lower than the national target despite known incidence of increased influenza‐related complications, cardiovascular events, and deaths in this high‐risk population, according to the results of a review recently published in the Journal of the American Heart Association.
According to a study from Priyanka Bhugra, MD, from the Hospital Medicine at Houston Methodist Hospital in Houston, TX and colleagues, CVD is the leading cause of death and disability worldwide and influenza is linked to an increased risk of CV events and mortality, and all‐cause mortality in patients with CVD. The researchers suggest that there is a potential threat of concurrent epidemic with influenza with the ongoing COVID‐19 pandemic.
"Vaccine uptake is a complex interplay of sociodemographic factors including age, insurance status, and healthcare access, as well as behavioral factors such as perception of vaccine efficacy and safety," Bhugra and colleagues wrote in the study. "Multi‐level strategies to increase awareness of vaccine effectiveness and its limited side effect profile, and efforts to improve accessibility are urgently warranted in this vulnerable and expansive patient population."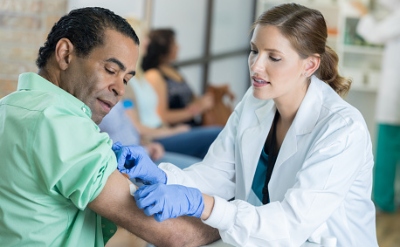 The review states that current guidelines by the CDC's Advisory Committee on Immunization practices recommends annual influenza vaccination for all adults, especially among those at increased risk of severe illness. The CDC also emphasizes vaccination of household contacts and caregivers of individuals at high-risk and healthcare workers to promote herd immunity. 
According to the AHA and the ACA, annual influenza vaccination with inactivated vaccine among people with atherosclerotic CVD (ASCVD) as part of a comprehensive secondary prevention strategy is strongly recommended. 
To improve vaccination uptake among adults, particularly those at risk of CVD, Bhugra and colleagues stress the importance of understanding determinants of influenza vaccination.
The researchers suggest that because of the increased probability of a concurrent epidemic of COVID-19 and influenza, there is a need for intensifying influenza vaccine uptake and simultaneously implementing wide-range strategies. 
By adopting approaches to improve influenza vaccination rates discussed in this review, Bhugra and colleagues suggest that the coverage of COVID‐19 vaccination among patients with established CVD as more vaccines are approved and available in the United States can be optimized.
The review states that similar barriers to those affecting influenza vaccination uptake in the United States may also preclude optimal COVID‐19 vaccine coverage and uptake, especially among marginalized subgroups with unmet health needs, and will have to be addressed and reconciled. 
The researchers are hopeful that the review will help enhance vaccination coverage in patients with CVD, and increase access to and use of vaccines given key patient‐ and population‐level implications. 
"In the context of the ongoing health crisis attributable to the COVID‐19 pandemic, increasing uptake of the influenza vaccine is even more crucial in preventing a concurrent epidemic," the researchers wrote. "Lessons learned from enhanced influenza vaccine uptake in patients with CVD will most likely inform vaccination efforts against COVID‐19 once vaccines become more widely available and accessible."
Disclosure: Some authors declared financial ties to drugmakers. See full study for details.  
Photo Credit: Getty Images